SEA MOUNT FISHING
 Are you ready for this Epic Fishing Adventure?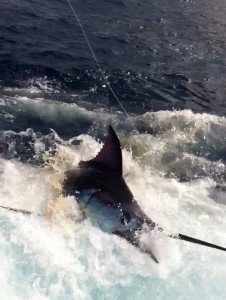 What the Superbowl is to football is what Sea Mount Fishing is to well….FISHING! You could say this is a trip for the serious fishermen only, but you could also say…If you only fished once in your life, WOW!! this would be one hell of a trip and a memory you would NEVER forget!
Sea Mount fishing, 100+ miles off of Costa Rica for Blue Marlin between April and October is more than EPIC! On any given day you can have 15 Blue Marlin bites in a day and on special days more than 50! There have been reports of raising over 100 in one day! This is not a fishing story it's a fishing reality!
The Tijereta is now taking charters for Sea Mount Fishing!
It takes 12 hours to get to our fishing destination. The Tijereta chugs at 8 knots with enough fuel to fish for three 12 hour days. Depending on how many days you want to fish…The breakdown: It takes four days to fish for three, three to fish for two or two to fish for one.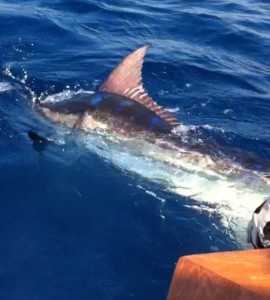 Sea Mount Fishing Trip Details:
The Tijereta leaves the dock at 4pm, chugging all night (12 hrs) to get to your destination.  Fishing days are from 6:00 am – 6 pm. We provide breakfast, lunch, dinner and all drinks.  At 6 pm, the end of each day of fishing,  a sea anchor is put out for the night. Your accommodations on the Tijereta include a comfortable bunk, AC,  and hot water… Along with the best Blue Marlin Fishing you have ever seen! On your final day of fishing, at 6pm the Tijereta heads back to port.
Sea Mount Fishing Charter Packages: ($3200 per day)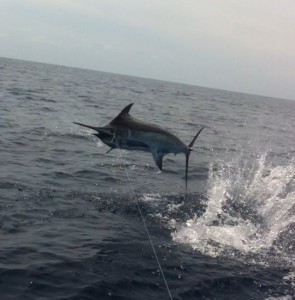 4 days: 12,800 (3 days of fishing)
Leave at 4 pm day before – Travel
fish 6 am – 6 pm (12 hours) day 1
fish 6 am – 6 pm (12 hours) day 2
fish 6 am – 6 pm (12 hours) day 3, at 6 pm head back to port
Arrive at port in the morning
Includes:
Breakfast
Lunch
Dinner
All Drinks
Accommodations on Tijereta:
A comfortable bunk, AC, and hot water
3 days: 9,600 (2 days of fishing)
Leave at 4 pm day before – Travel
fish 6 am – 6 pm (12 hours) day 1
fish 6 am – 6 pm (12 hours) day 2, at 6 pm head back to port
Arrive at port in the morning
Includes:
Breakfast
Lunch
Dinner
All Drinks
Accommodations on Tijereta:
A comfortable bunk, AC, and hot water
2 days: 6,400 (1 day of fishing)
Leave at 4 pm day before – Travel
fish 6 am – 6 pm (12 hours) day 1, at 6 pm head back to port
Arrive at port in the morning
Includes:
Breakfast
Lunch
Dinner
All Drinks
Accommodations on Tijereta:
A comfortable bunk, AC, and hot water